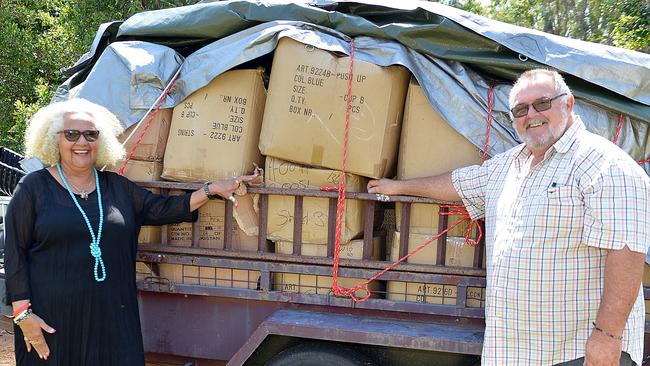 Australia's 'slave trade' disgrace
Originally published on The Australian on 10/11/21, written by Stephen Rice
When a group of Pacific Islanders fled their abusive employers in Western Australia, embarking on a long journey across the top of the continent to escape rampant wage theft and appalling working conditions, the authorities sprang into action. Within days, specialist Border Force officials raided the home of one of the chief suspects.
But the target of this swift ­response was not one of the ­abusers. The man in Border Force's sights was Geoff Smith, a Christian missionary in Bundaberg who has spent much of his life providing pastoral care to South Sea ­Island workers and was ­believed to have helped the runaways, and others from his area.
More than 50 islanders had "absconded" from their employers in Bundaberg alone in just a few months.
Mr Smith could only watch on as nine Border Force officials armed with a lengthy warrant ransacked his home, seized his phone and left his wife Jane sobbing and shaken. For his alleged crime – "referring unlawful non-citizens for work" – Mr Smith faces up to four years in jail and fines of $40,000. If charged and convicted, he will be the only casualty to date in Australia's abysmal treatment of its guest workers.
Not one prosecution has been launched by the Fair Work Ombudsman against any "approved employer" in the Seasonal Worker Program in the past four years.
Last week, The Australian revealed how those employers, usually labour hire companies, deduct up to two thirds of workers' pay for accommodation, transport, visas and other items; even charging $14.20 a time for water coolers.
"The whole program is rotten to the core," Mr Smith said. "There are people making thousands and thousands of dollars out of these workers – these poor blokes at the bottom of the chain."
For years, he has been the man seasonal workers turn to in Bun­daberg when they're in trouble. His wife Jane is a second-generation South Sea islander whose grandparents came to Australia as victims of the blackbirding trade.
The threat of prosecution hasn't stopped Mr Smith. Last week he was thrown off a farm where he'd gone to check that some workers were OK. The manager threatened to call the police.
The federal government says absconders are taking advantage of labour shortages and simply swapping jobs for better money.
On the evidence seen by The Australian, that is not true. Most don't mind the harsh work conditions; they signed up for hard, dirty work and shared dormitories. But they know when they are being ripped off. And lied to.
When they sign up to work in the scheme they are promised that "seasonal workers have the same rights at work as other employees in Australia". Even the Fair Work Ombudsman repeats the claim on its website. But that is not true. Workers under the program have no freedom to move between ­employers – a right that is available to every Australian worker – and can be deported for doing so.
The ombudsman's office has shown itself incapable of implementing oversight and enforcement mechanisms, even though it is required by law to do so.
The last significant attempt by the FWO to prosecute exploitation under the program – in 2014 – ended with the labour hire contractor, Emmanuel Bani, walking away without even reimbursing the wages that the 22 workers had lost. Bani was fined $304,949, but he paid just $490, arguing that he couldn't afford any more.
The man who convinced those frightened workers to stand up for their rights was Geoff Smith.
Seven years later, and despite millions of dollars spent on schemes designed to protect seasonal workers, he says things are worse. More than 1200 seasonal workers have absconded from their employers in the past year alone, a tenfold increase from just five years ago. Many of those ­absconders are quietly aided by ordinary Australians, including some farmers, who are appalled at their treatment. Some liken it to the "underground railroad" – the illegal network of safe houses used by slaves in early 19th-century America to escape their owners.
That comparison didn't seem far-fetched to Mr Smith as the Border Force officers stood in his living room, downloading the ­contents of his phone.
His lawyer, Stewart Levitt, ­believes the investigation of Mr Smith and his wife is redolent of the US Fugitive Slave Act of 1850, which required law enforcement officials to arrest any person aiding a runaway slave or providing food or shelter.
But as Mr Levitt says, those good Samaritans convicted of rendering succour to runaway slaves were liable to only six months in jail. If convicted, Mr Smith could be locked up for much longer.